Our detailed guide to the Panasonic HC –X2000 Video camera
Want to know about video cameras?
Here is our guide to the Panasonic HC X2000

This video camera has newly entered the market in March 2020 as a light weight machine with all the professional features you expect on the larger professional models with an extra feature of Wi-fi and live streaming capability already built-in.
Below we will go through the sections of interest and capabilities of the camera.
Lens

Zoom Functions

Auto Focus

Stabilisation

Recording format

Recording capability

Slow Motion

Live Streaming Feature

Audio Inputs and Sound quality

Camera light

SD card slots

Battery life and Power supply

Touchscreen display and functions

Weight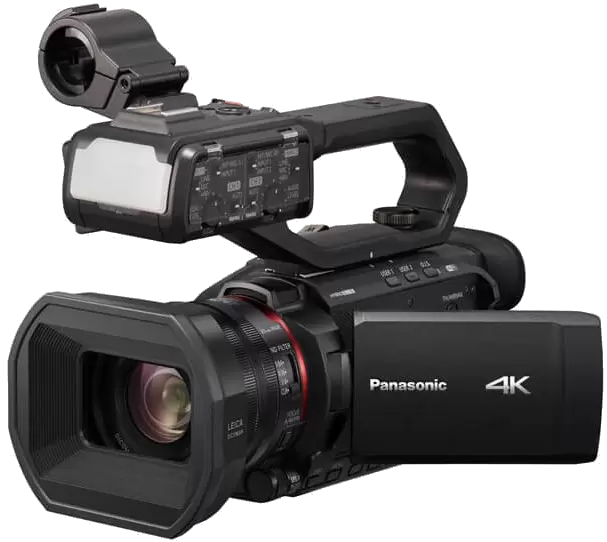 Lens
Leica Lens 25mm its small but has a fast lens of f1.8 to f4, this makes it ideal when shooting in low light as well. It has 2 rings on the lens that are easy to grip and use, these are focus ring and a zoom ring. And right beside these rings is the ND filter switch.
Zoom Functions
The Zoom functions on the Panasonic HC X2000 are from a 25mm wide angle to an equivalent 600mm24x Optical zoom as well as iZoom of 32x UHD/48x FHD.
Auto Focus
It has 4K very high precision Auto focus (AF/AE) including amazing face detection and colour recognition.
Stabilisation
It has amazing HYBRID O.I.S stabilisation using 5 axis correction against blurring your fantastic shots caused by hand held camera shake.
Recording formats
The file formats supported by the Panasonic HC X2000 are 4K 60p @200mbps write speed HEVC (High Efficiency Video Coding) 4:2:0 10bit and records in MOV/MP4 and ACVHD.
Slow Motion Feature
In the formats of 120/100fps you can use the amazing super slow-motion recording, when using this mode it records in only MOV or ACVHD, but this is a fantastic feature of the Panasonic HC X2000 not often seen on cameras in this range
Live Streaming Feature
Full HD Live streaming capability supporting RTSP/RTP/RTMP/RTMPS file transfer. You can remotely control the camera from focus and zoom and settings from a tablet application.
While using the built-in Wi-fi module. You can stream straight to Facebook, Youtube and other streaming services with the use of LAN or wireless internet device.
For a comprehensive guide to Live Streaming have a look at our Ultimate Guide To Live Streaming and find out exactly what you need to have and know to successfully livestream any event with a single camera or a multiple camera setup.
Audio Inputs and Sound
The removable handle can be removed, and the body made even smaller (converting the model down to X1500). The handle houses the Microphone mount with 2 XLR inputs and its onboard camera light.
On the opposite side of the XLR inputs we have the controls for the XLR device. The audio inputs are 2 x XLR inputs are 24bit high resolution Linear PCM Audio recording. The controls are +48V/Mic/Line selectable per channel.
Onboard Camera Light
The light has a scroll wheel just behind it so its easy to set the brightness of it to go from 30 to 100%. We use this as a fill light when we need light on our subject quickly and especially if we are on the move at a function.
SD card slots
2 SD memory card slots (tip: use PRO SD card, check write speeds on them, not just the size), we love this function as when recording it automatic swaps SD cards when the 1st is full so there is no loss in recording footage.
There is a 3G-SDI (BNC) and a 5CFV for connecting to an External hard drive as a storage device. Advanced internal design of heat dispersion on an extra thin fan pulling the air from the rear vent in the main body, it has unlimited recording times in 4K at 60p.
Battery and Power Supply
The factory battery distributed with the Panasonic HC X2000 runs to around 4 hours of recording life. There is no external additional battery charger as for convenience all you do is plug in the power adapter and the camera acts as the charger.
This is very handy as it means less for the carry bag and we all know that unless there is a willing pack-horse to do the heavy lifting, fewer pieces of equipment is always a bonus.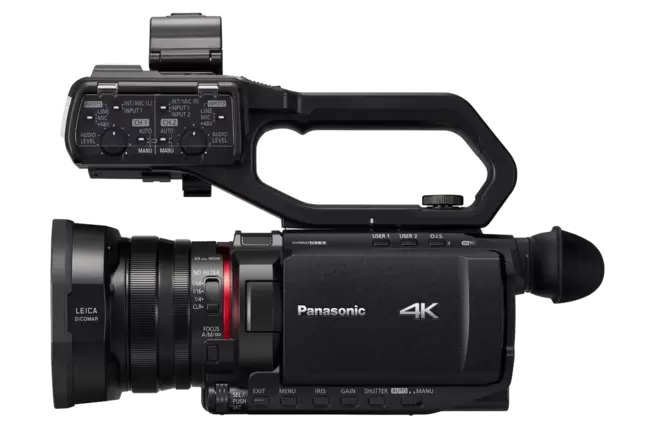 Display/Touchscreen
Touchable Display consists of a tiltable 3.5inch monitor with simultaneous eye piece display. The LCD/EVF is constantly on LCD even if the EVF is not being used.
The settings menu is accessed through the touchable display and there is a scroll wheel/push button on the body under the viewfinder for easy scrolling and selecting of modes and settings.
The same functions are available on this camera as on larger professional models. It has user-friendly functions and you can set user-assigned buttons for one touch control on your favourite settings when shooting.
Weight
The Panasonic HC X2000 is claimed to be 'the Industry's smallest and lightest' 4K 60p camcorder. It has a compact body with a centre balance of weight. It is great for one handed use with the rocker zoom button exactly where you need it.
Cost
The Panasonic HC X2000 comes in at less than £2000, and we have seen it on offer at slightly under £1800, which makes it a reasonably priced piece of equipment in our opinion. Shop around for the best deal and let us know if you find it cheaper anywhere and we can pass on that information.
Appearance
The Panasonic HC X2000 is a very tidy piece of equipment packed with features and dseserves it reputation of the smallest in its class.
That brings us to the end of this review of the Panasonic HC X2000. I hope that I have covered enough of the camera parts and functions in enough detail for you.
I went through the camera parts from the Leica Lens right through to the dual SD card slots and slow-motion function to the weight and professional functionality.
This certainly is a top drawer small compact professional video camera with all the professional functions that you might see on larger models costing over £3k.
I hope that this helps you decide if the Panasonic HC – X2000 is one for your own equipment bag.
I would love to know if you have used one or have any questions or comments.
Please drop me a line by sending a message here
Have a great day
Allan